I was at the GWB Bus Station on a Sunday, and discovered that there is a regular-route van service that leaves from Washington Heights to Pennsylvania! I was previously not aware of this service.
The vans advertised service from Hazleton and Stroudsburg, PA to Paterson, NJ and New York. They were boarding at the corner of 180th and Broadway. Vehicle quality ranged from somewhat old, to brand shining new vans.
There were at least two separate van companies providing this service. One was C & P Transportations [sic] . Neither seem to have an online presence. They operate on a reservation basis, with the option to pay cash on-site. The vans said C & P Transportations, but there are online reviews for C & G Transportations, with the same phone number. It is unclear if this is a typo or the company changed names.
These companies seem to provide a much lower fare than their traditional competitors, Martz and Fullington Trailways, which charge $30-$50 for tickets from New York to the Poconos. With an intermediate stop in Paterson, and customer service in Spanish and English, they also seem to serve the needs of travelers better.  I assume they have taken the majority of the market share.
There are also online reviews for a similar company called Dxt Transportation, but I could not find anything online.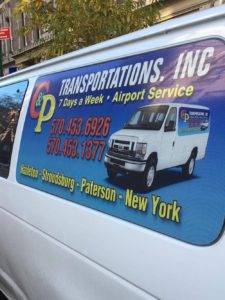 Contact:
C & P Transportations: (570) 453-6926
Dxt Transportation: (570)  454-1398