Jersey City – Hoboken – Weehawken – New York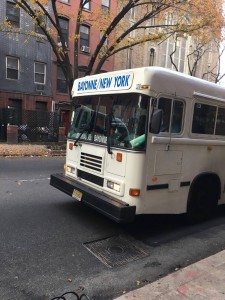 Central Avenue in Jersey City Heights has jitney service inbound in the morning only.  Buses run along Central Avenue, Congress Street, Paterson Plank Road, and the 14th Street Viaduct into Hoboken.  From there they go north along Willow Avenue and through the Lincoln Tunnel to Midtown. Some of these buses originate in Bayonne.
This route parallels the NJ Transit 119 bus, which runs every half hour or more.  The jitneys operate about every 15-20 minutes, and the last trip is around 10 am.  There is no outbound service from New York.
Inbound towards New York, the buses drop off at 40th and 8th, and 40th and 7th. It is common for passengers to get off at various point along 40th Street, as traffic moves very slowly.
Signage on jitneys on the Central Avenue route is wildly inconsistent.  However, there are no other jitney routes on the streets, so you can be confident that any jitney on Central, Congress, or Paterson Plank Road is going to the Port Authority.