New York – Union City – West New York – Guttenberg – North Bergen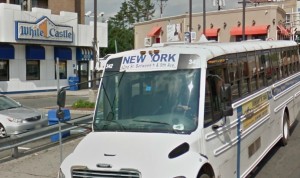 This route runs from Nungessers in North Bergen along Bergenline Avenue, and then through the Lincoln Tunnel to Midtown Manhattan.  Northbound buses travel on New York Avenue, 48th Street, and Bergenline.
They run every 2-4 minutes during rush hours, and somewhat less frequently at other times.  This route runs 24 hours a day, seven days a week  After midnight, service is approximately every 10-20 minutes.
Look for buses with signs that read "New York 42nd Street" or "Port Authority Gate 51."  Some buses with other markings may also carry "Bergenline" placards on the dashboard.
In New York, buses on this route board near the north side of the Port Authority, on the south side of 42nd Street just west of 8th Avenue.
In Union City, West New York, and North Bergen, this route overlaps with the  Newport Mall – Journal Square – Bergenline – George Washington Bridge route.