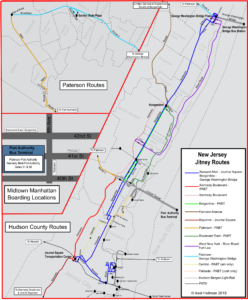 New Jersey Jitney Routes Map
See the jitney map here! This map shows all jitney routes in Northern New Jersey, except for the Palisades Park – Fort Lee – Flushing route.  Click  to see full resolution.
Or, Download a PDF of the jitney map.
Hudson County Frequent Transit Map
This map, created by blogger Capn Transit, shows frequently running bus, PATH, light rail, and ferry routes in Hudson County.  Routes that only come every hour or only operate during rush hour are excluded.  These routes, except the ferry, all operate on weekends as well. Click for high resolution. This is several years old.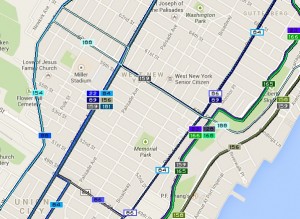 Unofficial New Jersey Bus Map
This website, prepared by a public-spirited individual, is clunky but generally accurate.  It shows NJ Transit bus routes and some municipal shuttles, although it excludes almost all private carriers. Click here to see the map.